Ulja za komercijalna vozila
ENEOS DIESEL GRAND LA 10W40 FULLY SYNTHETIC
Advanced, new generation of oil for Euro4 & Euro5 heavy duty Truck & busses engines.
Performance Level: API CI-4, ACEA E6-08, E7-08, Mercedes Benz , B 228.51, MAN M3477, M3271-1, MTU Type 3.1, Volvo VDS-3, Renault Trucks RXD, VI RLD-2, RGD MAC EO-N*, Cummins CES 20076/77, DAF Truck, Deutz DQC III-10 LA
ENEOS DIESEL GRAND 10W40 SYNTHETIC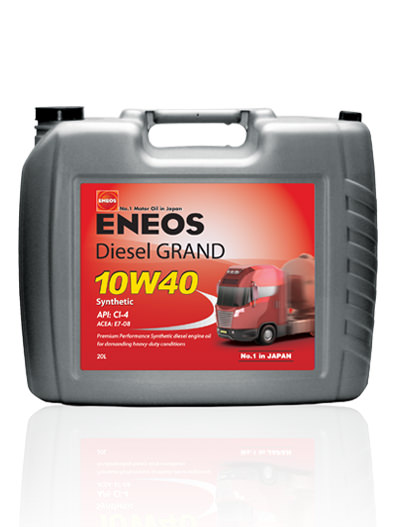 Performance synthetic heavy duty engine oil desinged for reducing the operating cost in multi-vehicle fleets.
Performance Level: API CI-4 / SL, ACEA E7-08, A3/B3/B4-08, JASO DH-1, Global DHD-1, Mercedes Benz MB 228.3, 229.1, MAN M3275, Volvo VDS-3, MTU Type 2, Renault Trucks: RLD-2, Mack EO-M+, Cummins CES 20077/78
ENEOS SUPER HYDRAULIC 46/68
Universal anti-wear hydraulic oil developed for wide range of application in hydraulic systems.
Performance Level: HLP DIN 51524 part 2 (HLP), Vickers I-286-S and M-2950-S, FZG A/8.3/90>12, AFNOR NF E 48603 (HM), Cincinnati Milacron P68/P69/P70), ISO class L-HM (according to ISO 6743/4), VDMA 24318, Thyssen TH-N-256132, US Steel 126/127
ENEOS SUPER PLUS 15W40
Universal robust engine oil for heavy duty applications.
Performance Level: API CG-4/CF-4/CF/SJ, ACEA A2/B3/E2/A3, VW 501/505, Mercedes Benz MB 228.1, 229.1, Volvo VDS, MAN 271, Mack EO/-L
ENEOS PREMIUM MULTI 15W40
Premium, robust engine oil developed according to the latest oil-consumption and exhaust emission standards for mixed-fleet application.
Performance Level: API /CI-4 plus/ CI-4/SL, ACEA A3/B4 en E7 (08), Global DHD-1, DLD-1 and DLD-3,VW 500.00/505.00, Mercedes Benz MB 228.3 ,228.1, 229.1, Volvo VDS-2/VDS-3, MAN 3275 and 271, Iveco Long Drain, Jaso DH-1, Allison C-4, MTU Type 2, DDC Oil Category 2, Cummins 20,071/2/6/7/8,Renault RD, RLD, VI RLD-2, ZF TE-ML 02C/03A/04B/04C/07C, Mack EO/M PLUS EO-N, Cat ECF-1/ECF-2, Deutz DQC-II, Skoda-Liaz 258-3
Ševulje bb, Visoko, Bosna i Hercegovina
T: +387 32 836 466 | E: [email protected]